Angie Rouse - Head Veterinary Technician
Angie is a local girl, growing up in Bellevue and attending Newport High School and Bellevue Community College. She joined Companion in 1995 as a veterinary assistant, and through continuing education and training became a Veterinary Technician. In mid-2008 Angie took on the challenging role of leading the tech department. Angie lives in Bellevue with her husband Craig. They have a daughter Taylor and son Nolan as well as a dog named Delta (pictured with) and a fat orange tabby cat named Mittens.
---
Meghan was born and raised in Bellevue, WA. She attended Washington State University were she earned her Bachelors Degree in Fine Arts and Science. She joined the Companion team in 2003 with her interest and love for animals starting her first position in Animal Care. Through the years she has grown within the hospital and has worked in the front office as Companion's Export Specialist, obtained her VMC license as Patient Care Coordinator in addition to assisting the technicians on the weekends. Currently Meghan is managing the Front Office in addition to being the Hospital Administrator. Her goals are to continue to grow at Companion and provide the best client and patient care.
When not dedicating her time to Companion, Meghan lives with her husband Victor, newborn daughter Alice and her fur-babies Pacha, Pollux, Max, Picasso her feisty lovebird and her horse Lace. When not caring for her fur family she loves spending her time outdoors; boating, camping, skiing, hiking and enjoying music concerts with her friends.
---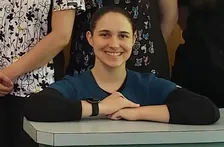 Samantha Ramsay - Animal Care Manager
Samantha is very passionate about animal care and working in the veterinary field. She started in the Animal Care department at Companion Animal Hospital in September of 2016. While at Companion, developing her strong work ethic, attention to detail and leadership qualities, her passion grew so much that she transitioned into the challenging role of Animal Care Lead in April of 2019. Currently, Samantha lives with her fiancé Andreja and fur family in Redmond enjoying the outdoors of the PNW.
Front Office Lead - Information coming soon