Comfortable Cat Boarding for Pet Owners in Bellevue, WA & the Surrounding Areas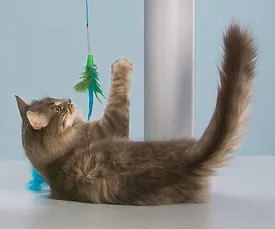 As much as we would love to take our pets with us everywhere we go, sometimes it is just not possible. While cats are pretty self-sufficient, there are many advantages to cat boarding, whether you're traveling for a few days or a few weeks. Professional cat boarding, especially at a veterinary clinic, ensures your pet is safe at all times. In the Bellevue, WA area, pet owners rely on Companion Animal Hospital for reliable cat boarding services.
The team at Companion Animal Hospital is here to make sure that your cat receives the highest quality care available while away from home, whether they're with us while you're going out of town for the weekend or traveling for long periods of time. Because we are a full-service veterinary hospital, we are able to provide the same high standards of care for our boarding pets that we do for our hospital patients.
Learn more about our cat boarding requirements and pricing below. Do not hesitate to contact us if you have any questions at all.
Boarding Requirements
At least 4 months of age

A physical exam with one of our veterinarians within the past 12 months

All the proper pet vaccinations, including FVRCP Vaccine within the past three years and

Rabies Vaccine current

Negative fecal test within the past year
Boarding Prices (Per Night)

Feline Boarding …..$35.50
Second Cat in Same Condo …..$27.00
Diabetic Cat……$40.50
Medication Administration…… $6.50 - $11.50 per day
Technician Care for Special Needs Cats……..$14.00/day
Fees for diabetic patients include boarding fees, as well as the extra care diabetic pets require. This includes additional monitoring, medication administration including insulin, special diets, etc. Please do not hesitate to ask our staff about additional amenities and the associated costs. You can also read our FAQ page and boarding services page for more specific information.
How to Prepare Your Cat for Cat Boarding & Staying at an Animal Hospital
Schedule a Visit: Come and visit our animal hospital to tour our cat boarding facilities. You will be able to see what the living spaces are like, the care we give to the cats, and more! It will also familiarize your cat with our animal hospital's boarding facility so that it won't be a foreign place to them.
Do a Trial Run: Schedule cat boarding for one night to see how your cat responds to staying away from home before you go away for multiple nights and board them with us. This will not only familiarize your cat with the process we have here and what it's like to stay somewhere that is not home, but it can give you peace of mind if your cat responds well. Sometimes it can take another try for them to get used to it, too.
Make a Packing List: Make a list of everything your cat needs and things that will make them comfortable while away. Favorite bedding or blankets will help them make themselves at home at our cat boarding facilities, and if you bring something you use a lot like a blanket, they may feel even more comfortable. Bring their favorite food to ensure they can eat while you are away. Also bring their favorite toys to make them comfortable and so that they can play!
Introduce to a Crate: If your cat has never slept in or used a crate before, whether for traveling or in your home, they should be accustomed to one.
Benefits of Cat Boarding
If you're getting ready to go out of town, you might believe that your cat will be fine in your absence. While this might very well be true, there are some major benefits to cat boarding that you should consider before you dismiss it entirely:
Keep Your Cat Safe: The inside of your home can be full of hazards for an inquisitive cat. You never know what your cat might get up to when you're gone. With cat boarding, you can trust that your cat won't miss a jump, eat something it shouldn't, or even run away.
Manage Your Cat's Food: There are many ways to ensure your cat is supplied with an adequate amount of food and water for the duration of your trip, but what happens if your cat topples its water bowl or your automatic feeder stops working? Approximately one in three cats will develop kidney disease as they age, and even one or two days without access to water can increase the likelihood of your cat experiencing issues. Cat boarding gives you the peace of mind that your cat will always have enough food and clean water.
Medication Management: If your cat must take daily medication, it's important to leave them with someone who can help. Our veterinary team is uniquely suited to administer medication as needed. Furthermore, since we are already familiar with your cat, we will be able to recognize and address potential health issues quickly.
Daily Litter Box Cleaning: Cats have an extremely sensitive sense of smell. Even just a few days without having their litter box scooped may cause them to avoid using it entirely. One of the perks of cat boarding is that we will scoop their litter box every day, ensuring that your cat won't find a creative new place in your home to do its business.
Company: Just because cats are more independent than other types of pet doesn't mean that they don't get lonely. Boarding your cat at our facility ensures that they are never left alone, keeping them mentally stimulated and happier.
Security: If you opt not to board your cat, you'll need to enlist your friends and family, or hire a pet sitter. But what if there is nobody that you fully trust in your home? Cat boarding eliminates this concern, keeping your home safe and secure.
If you live in the Bellevue, WA area and need to board your cat while you leave town, reach out to the team at Companion Animal Hospital today!
Call Us Today to Book a Cat Boarding Reservation!
If you would like to tour our boarding facility, we offer tours Monday to Friday between 1:00 pm and 3:00 pm. We are happy to accommodate your schedule with a pre-arranged appointment.
With many things on your mind leading up to a vacation or work trip, it can be difficult to find the right person you trust to stop by your house every once and while to check in on your cat. With comfortable and spacious cat boarding at Companion Animal Hospital, our team can take the stress away from your planning and ease the mind of your cat all within our modern boarding facility. Based in Bellevue, WA, our veterinary clinic has the experience with cats to identify their likes and dislikes to help them remain happy and healthy during their stay.

If you are interested in making a boarding reservation for your cat, all you need to do is give us a call during regular business hours and our front office staff will be happy to assist you. For your convenience, our boarding agreement forms 2023 are available online for you to print in advance. Please call us to make a boarding reservation at 425-746-1800.